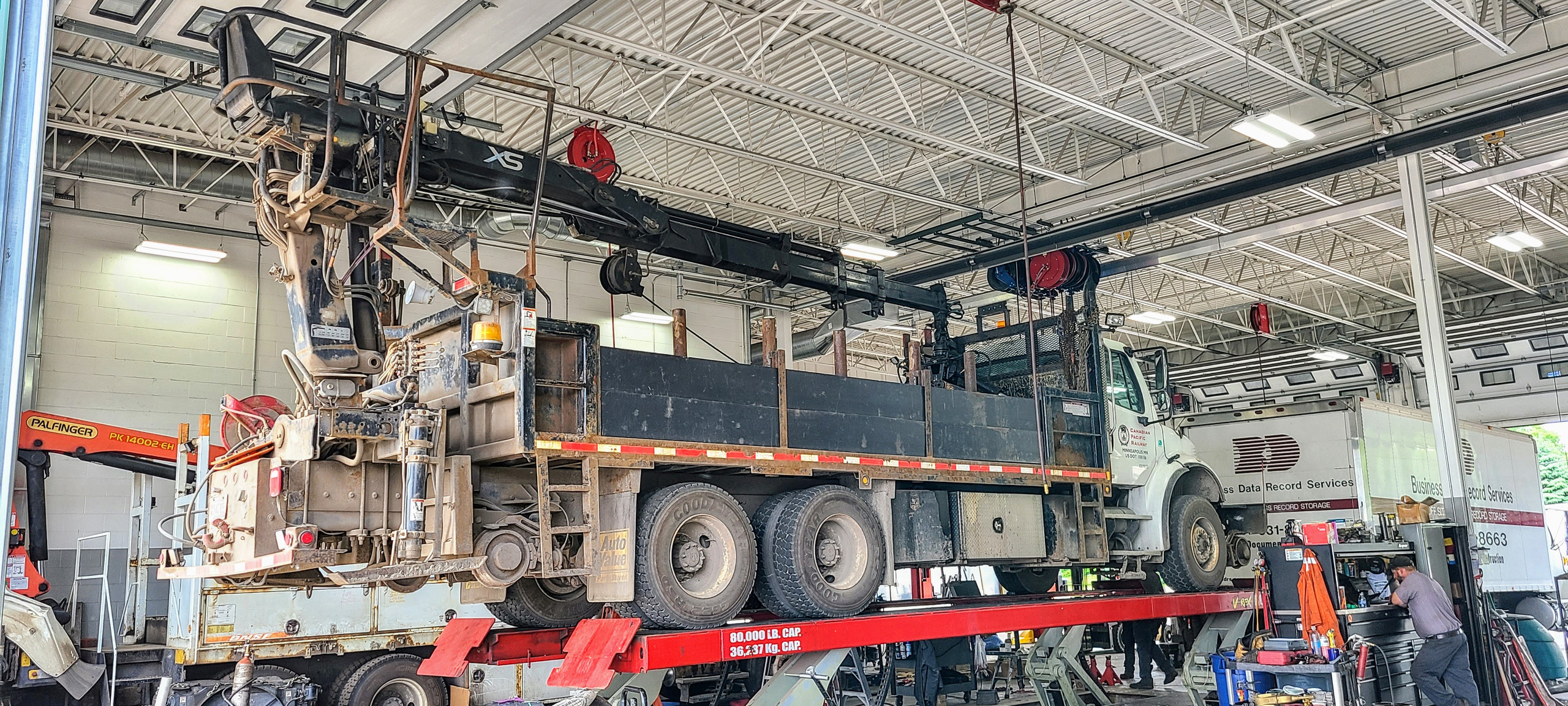 Dielectric Testing Services
in Minnesota

Electrical maintenance testing of aerial lifts, platforms, bucket trucks and similar vehicles is crucial for safety. Such vehicles are required by OSHA/ANSI standards to be dielectrically tested annually by qualified technicians.
Essentially, any vehicle that carries an insulation rating must be dielectrically tested even if you do not use the vehicle to work on electrical lines.
ANSI and OSHA Standards for Dielectric Testing
Dielectric testing is recommended by the American National Standards Institute (ANSI). The tests are governed by standard A92.2, the "American National Standard for Vehicle-Mounted Elevating and Rotating Aerial Devices." A92.2 has been adopted by OSHA, meaning that A92.2 is enforceable by compliance officers. In other words, it is required.
What Does a Dielectric Test Do?
Dielectric testing is a test of the voltage withstand ability, otherwise known as the dielectric breakdown, of the insulation on parts of an aerial vehicle. To perform most dielectric tests, voltage is applied across the insulator of the apparatus being tested while leakage current is measured.
As described by ANSI , dielectric testing verifies the electrical insulating strength of the:
FRP upper and lower booms
Bucket
Liners
FRP extensions on digger derricks
Tool circuits
Upper control system
Dielectric Test Equipment Identifies Insulation Failures
Bona Bros. dielectric testing equipment can detect insulation weaknesses and failures. These shortcomings can be caused by:
Surface contamination of the insulator
Chemical deterioration, either internally or externally, of the insulator
Old and degraded fiberglass or rubber insulation
Moisture absorption
Particle discharge and resulting ionization leading to faults and internal voids
Use of incorrect insulating material that lacks enough voltage withstand ability
When Must Dielectric Tests Be Performed?
Like other types of ANSI inspections, dielectric testing must be performed annually. Equipment that has not had a dielectric test performed in the last 12 months, as required by ANSI and OSHA, can't be considered insulating. Some equipment owners want tests performed more frequently in areas with harsh weather conditions, such as Minnesota.
Dielectric testing is also required, "after repair or replacement of any component that crosses the insulating system, or the repair or replacement of an insulating component (e.g. hoses, leveling rods, boom coating, etc.)."
Qualified Service Technicians Required
ANSI/OSHA requires annual dielectric testing to be performed by qualified service technicians. The techs at Bona Bros. maintain current ANSI certifications and can perform various dielectric testing, including both AC and DC tests.
Keep Your Bucket Trucks and Lifts in Compliance
Have you noticed potential electrical issues with your aerial equipment? Has it been a while since your last dielectric test? Be sure to schedule dielectric testing soon to keep your employees safe and your equipment in compliance with ANSI.
Bona Bros. has decades of experience inspecting and maintaining bucket trucks, booms, aerial platforms and similar equipment in the Twin Cities. Whether you have one vehicle or an entire fleet, we can perform effective dielectric testing and get you back to work quickly.