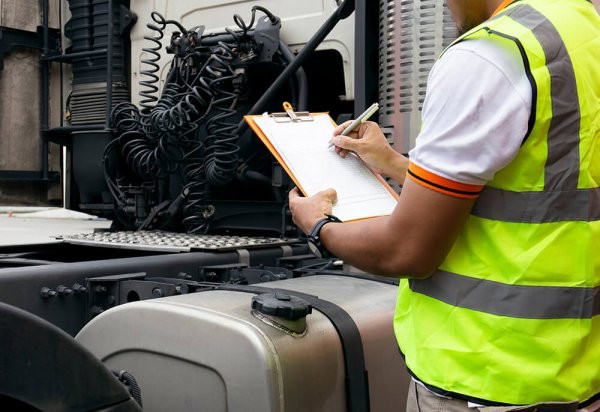 Minnesota DOT Inspections

The majority of commercial vehicles in Minnesota require frequent and periodic DOT inspections. Learn more about what they are and how to prepare.
Are you the driver or owner of a commercial vehicle in Minnesota?  Do you know what is required to safely and legally drive on our roads?  Most commercial vans and trucks require them.  Failing to adhere to these regulations is costly so it is encouraged for owners to be current on what it takes to remain compliant.
What are the regulations?
Minnesota's Department of Transportation (MNDOT) is in charge of specifying what is required for the safe operation of all commercially moving vehicles in order to reduce injuries, accidents, and fatalities on our roadways. 
Most of the regulations around the inspections, repair, and maintenance can be found in the Federal Motor Carrier Safety Regulation 49 CFR, Part 396 while the annual inspection requirements for all Minnesota based vehicles can be found in MN state section 169.781.
What vehicles require an annual DOT inspection?
MN Statute requires the following commercially moving vehicles to undergo an annual inspection and to carry a certification sticker that is less than one year old:
Has a gross vehicle weight of more than 26,000 pounds

Is a vehicle in a combination of more than 26,000 pounds
Is a bus
Is of any size and is used in the transportation of hazardous materials that are required to placard under Code of Federal Regulations, title 49, parts 100-185
There are certain exemptions to MNDOT's requirements, which includes but is not limited to vehicles engaged in interstate commerce, school buses, and vehicles classified "special mobile equipment."
What is included in an annual DOT Inspection and who can do it?
If your vehicle requires an annual DOT inspection, it must be performed by an inspector who has undergone the Mandatory Inspection Program and is certified by the commissioner.  Such inspectors can include the following:
MNDOT and Public Safety employees who are trained by the State Patrol
The vehicle owner or employee(s) of the vehicle owner
Licensed dealers of commercial motor vehicles
Technicians whose profession includes the repair and maintenance of commercial motor vehicles
The annual inspection is an opportunity to comprehensively review your vehicle for safe operation so you can correct any defects.  An itemized pass or fail report will be issued and must be kept on hand by the owner for up to fourteen months.  Major components of the inspection include the following:
Time in/out, date, and name of the inspector
Vehicle specific information such as USDOT number, odometer reading, and VIN
Pass / fail grading for major vehicle components such as:

Brake system (e.g. hoses, parking brake, rotors and drums, etc.)
Coupling devices (e.g. 5th wheel, locking devices, saddle mounts, etc.)
Fuel System (e.g. visible leaks, fuel cap, tank condition, etc.)
Wheels and rims (e.g. locks and slide rings, lug nuts, welds, etc.)
In addition to the required annual inspection and certification, operators of commercial vehicles may be subject to periodic roadside inspections at weigh stations and other roadside locations to ensure compliance with state and federal regulations.  Failing these inspections can result in penalties such as license revocations and civil/criminal penalties, among others.
How can you prepare for a DOT inspection?
DOT inspections are an unavoidable part of doing business for commercial vehicle operators.  Preparing for an annual inspection is manageable, but it is also important to be prepared for unexpected ones by frequently reviewing your vehicle's components and logs for compliance - some operators go so far as to develop a DOT checklist they review before every drive.
Each operator will have different requirement but everyone should at least consider the following:
Lights
Ensure all of the lights on your vehicle are functioning properly.  Check your brake lights, high beams, headlights, and lowlights before driving as these are critical safety components for yourself and other drivers on the road.
Tires
Shards of a blown out tire are unfortunately common on our roadways.  While it is more likely that your tire slowly leaks air, these dangerous pitfalls can be avoided by checking your tire pressures with a tire gauge before every drive.   
Do not forget to have functioning mud flaps and splash guards in place that prevent water and debris from splashing onto other vehicles.  Minnesota requires that they are at least as wide as the tire and clear the ground by no more than nine inches – each state has unique regulations so review them if you engage in interstate commerce.
Windows
Last but not least, make sure that your windows are in working order and are free of cracks and chips - these can quickly grow if not addressed right away.  Also check your wiper blades for wear and ensure your field of view is not obstructed.
While it might be easy to view these regulations as a nuisance, operators should look at them as a form of preventive maintenance that extends the life of their vehicle and keeps our roadways safe for everyone.
If it is time for your vehicle to undergo it's required annual DOT inspection, or if you have questions about them, please contact the experts at Bona Bros.  Our ASE-trained technicians have experience inspecting thousands of vehicles and undergo continuous training by the Minnesota Department of Transportation.