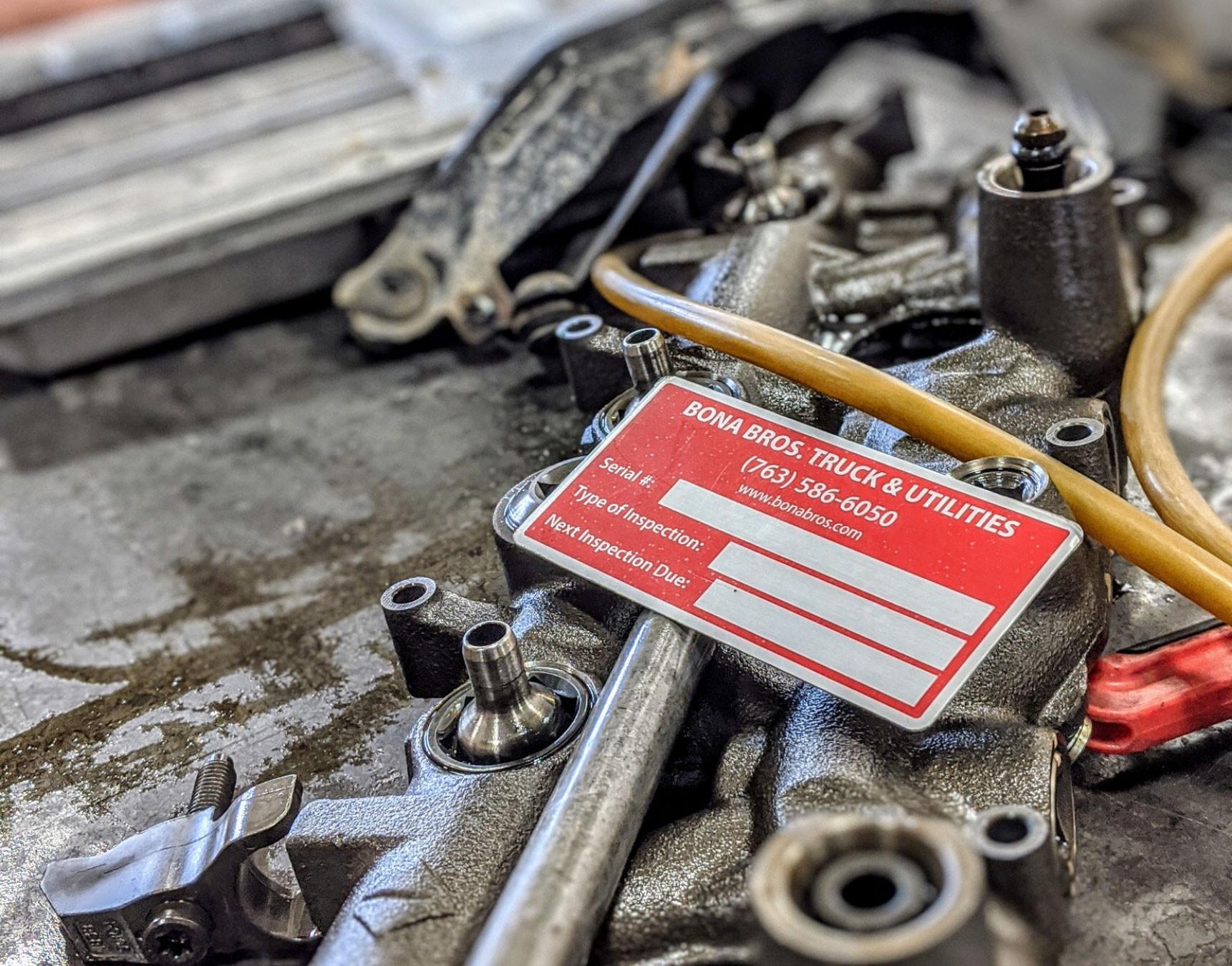 ANSI Inspections

ANSI inspections ensure that aerial lifts are in safe working order.  Knowing what they are and how to prepare for them can significantly reduce costly repairs and downtime.
Bucket trucks, mobile cranes, digger derricks, knuckle booms – whichever type you own, these specialty vehicles mounted with aerial, hydraulic lifts are wonderful tools that can safely and efficiently move personnel and/or materials to hard to reach areas.  Utility workers can operate on high transmission lines while digger derricks can quickly dig holes and move a wide variety of materials at a job site.  The working height of some lifts can even exceed 100 feet.
Despite the many benefits of these trucks, the reality of working in such conditions is that the safe operation by both the machine and the operator cannot be overstated.  When these hazards are not respected, the consequences can be serious and oftentimes fatal. 
Therefore, it is imperative that operators follow a strict regimen of preventive maintenance as well as frequent and periodic inspections.  Most commercial trucks require Department of Transportation (DOT) certifications but the specialized nature of this equipment goes a step further – enter the ANSI Inspections.
Standards for aerial lifts - OSHA & ANSI
The standards for required inspections of aerial lift equipment are dictated by the Occupational Safety and Health Administration (OSHA) and the American National Standards Institute (ANSI).  ANSI standards for this type of equipment are designated as "voluntary recommended practices" but OSHA often references these standards as mandatory for almost all industries.  The practical result is that these trucks must be inspected at specific intervals in order to be compliant.
Frequent & Periodic ANSI Inspections
ANSI standards differentiate between frequent inspections and periodic (i.e. annual) inspections. 
Frequent
ANSI/SIA Standards A92.5 and A92.6 section 6.6(2) require frequent inspections of aerial platforms by certified technicians at "3 months or 150 hours," whichever comes first.  It is critical that owners and operators of these trucks understand the workload placed on their vehicles so they adhere to this standard.
Periodic (i.e. Annual)
ANSI/SIA A92 & A92.5 section 6.7 as stated: "The owner of an aerial platform shall ensure that an annual inspection is performed on the aerial platform no later than thirteen (13) months from the date of the prior annual inspection. The inspection shall be made by a person(s) qualified as a mechanic on the specific type of aerial platform or one having similar design characteristics. The inspection shall be in accordance with items specified by the manufacturer for an annual inspection. The owner shall not place the aerial platform into service until all malfunctions and problems have been corrected."
It is critical that these inspections be performed by a certified technician who has been trained according to OSHA and ANSI standards.
What is included in an ANSI inspection?
It is the truck owner's responsibility to ensure the personnel operating their equipment are trained properly, and this includes understanding what goes into the various inspections.  The inspection criteria differ according to if it is a daily pre-use inspection, a "frequent" inspection because the truck has over 150 work hours since it was last inspected, etc.
The annual ANSI inspection is the most comprehensive and has slight variations depending on the type of aerial lift.  A certified technician will conduct a review of the major components of the aerial lift and produce a report of their findings based on severity.  Any defects must be remedied before a passing certification will be issued.  Let's take a look at some of the major components of an annual ANSI inspection.
Structural Tests
Structural tests require a complete visual inspection of accessible areas, including the removal of cover plates as necessary to do a thorough job, such as:
Outriggers: pads, structure, welds, bolts, hoses, cylinders, valves, pins, and retainers
Rotation bearing: upper and lower bearing attachment weld and bolts, vertical movement of bearing, and proper torque on accessible bolts
Platform (bucket): mounting bracket bolts, leveling system, exterior condition, control operation, and hydraulic lines and components
General: load rating chart, electrical hazards placard, MADDDC placards, and upper or lower control operation placards
Structural tests may also include acoustic emission tests to assess the integrity of the fiberglass and steel structure, magnetic particle inspections to identify surface cracks on ferrous metals, and torque testing all critical fasteners, among others.
Functional and Operational Tests
These tests center on the proper operation of controls, bearings, pins, bushings, cylinders, outriggers, etc. and also pinpoints worn swing bearings or gearboxes, worn pins or bushings, and any loose fasteners.
Dielectric Test
As specified by ANSI standards, the dielectric test verifies the electrical insulating strength in the FRP upper and lower booms, bucket, liners, FRP extensions on digger derricks, tool circuits, and upper control system.
Preparing for an ANSI Inspection
An ounce of prevention is worth more than a pound of cure.  That saying certainly rings true when it comes to maintaining your equipment so you can reduce any surprises during your annual ANSI inspection.  Here are a few tips to do so:
Basic inspection template
Are your personnel properly trained on how to inspect their equipment before use?  Do you have it in a template format that makes sure nothing gets missed?  Proper training and adherence to protocols is vital so do your best to make compliance effortless but accurate.
Timing of your fleet
It is important to know exactly how many hours your trucks are in service as this can trigger a required inspection if it surpasses 150 hours within a three-month period.  Do you have a record book that tracks this?  This becomes particularly important if you have a fleet of vehicles.
Scheduling around use
Work trucks are meant to work.  With inspections taking roughly three to six hours, you can avoid unnecessary downtime by knowing which vehicles are approaching their frequent and annual inspection thresholds and orchestrate around them.  This will reduce the potential for a bottleneck of inspections that might come due.
Stay up to date on preventive maintenance
Do your daily inspections reveal recurring issues such as leaks or worn hydraulic hoses?  Be sure to schedule any preventive maintenance with a certified technician before issues start to multiply.  Keeping your equipment properly maintained will go a long way towards extending it's useful life and passing ANSI inspections.
Bucket trucks, digger derricks, and other similar equipment must remain in a safe working condition otherwise the consequences can be catastrophic.  Add to this the increasing speed of technological advancements, and it is critical that your inspections and preventive maintenance be performed by trained professionals only. 
Bona Bros has decades of experience inspecting, maintaining, and repairing thousands of these vehicles so that you can keep your personnel safe.  If you have a fleet of vehicles, we will schedule around your requirements so you can get back on the road as quickly as possible.